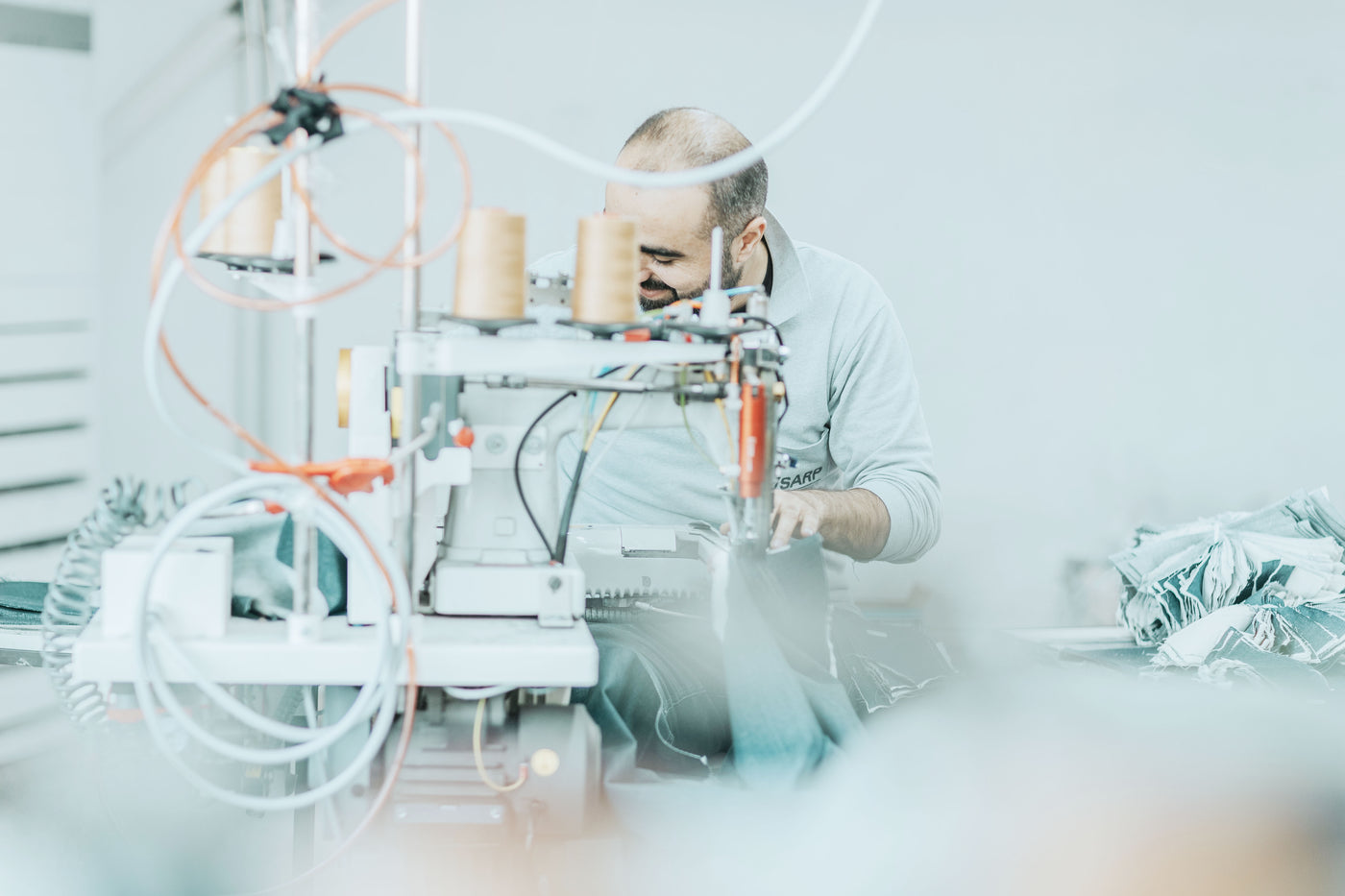 Accountability
Certifications
BETTER CHEMICALS
In our dyeing and washing processes we focus on using new techniques and better chemicals with a lower environmental impact. These chemicals comply with ór the certification the product or fabric has or our (M)RSL. Part of this document is the Zero Discharge of Hazardous Chemicals MRSL, which restricts hazardous inputs throughout the chain. Certification with chemical restrictions we often used on our products or fabrics are GOTS, GRS and OEKO-TEX 100.
Our Fabrics
GLOBAL ORGANIC TEXTILE STANDARD ORGANIC COTTON
100% of our cotton is GOTS certified organic. 100% of our linen is organic. Organic crops are grown without the use of chemical fertilisers, pesticides and insecticides. Organic cotton is 100% pesticide free. Pesticides pollute soil and water, killing wildlife and harming communities. Creating organic cotton yarn reduces CO2 emissions by 60% compared to conventional cotton.
GOTS stands for the Global Organic Textile Standard. This is a global textile standard for organic fibres, which also includes ecological and social criteria. The aim of the standard is to ensure organic standards – from the farming, through the manufacturing process to the labeling – proven by a chain of custody in order to offer a credible global certificate to the consumer, from materials to the end product. GOTS has different certification levels, raw materials, yarns, fabrics and products can be GOTS certified. All the organic cotton we use, some of our fabrics (even our pocket lining!) and some full products are GOTS certified. At product level you can see what certification applies to the product.
LINEN
Linen is made from the strong fibres in the stems of the flax plant. Flax is a low demanding plant, growing well in more mediate climates. The flax plant needs few to none pesticides. It's one of the strongest - and oldest - fibres out there with a high durability. Linen gives your clothing a nice fresh, crisp and richly-textured feeling. All our linen is farmed in Europe, in France and Belgium to be exact.
HEMP
Hemp is a fast-growing plant made from stem fibers of the cannabis sativa plant. This plant captures carbon from the air faster than trees and most other plants. Which means, using more hemp for clothing could help lower our carbon emissions! Hemp is perfect for crop rotation as it enriches the soil but it can also be grown season after season as it enriches the soil. Because hemp grows so fast, it uses less land and water compared to other crops like cotton or trees, creating less environmental impact. We love hemp because it makes our pure goods stronger, more absorbent and more durable!
POST-CONSUMER RECYCLED DENIM
PCRD stands for Post-Consumer Recycled Denim, which means that the fibre being used for new denim, has already had a full life. It has been produced, worn and discarded. After cutting off the top of the jeans, the remains are shredded and then blended into new yarns. The top with the waistband is cut off as it contains a lot of metal parts, that can disrupt the shredder. Using the post-consumer clothing wastestream has several benefits. Fewer clothes will end up in landfill and fewer chemicals and water are needed for cotton production and fabric dyeing.
Production & Waste
We are working hard to meaningfully reduce emissions. We are doing this through our choice of fabrics, manufacturing locally within 450km of where the fabrics and all materials come from, shipping by sea, using factories that use renewable energy and energy-efficient technology in the manufacturing. 
We work to reduce waste in the production process by reusing offcuts and using low-waste cutting techniques. We work to reduce waste by creating limited production runs in order to reduce waste. We make each style and then dye them post sale.
All suppliers comply with the International Labour Organisation (ILO) Standards, including freedom of association, effective recognition of the right to collective bargaining, elimination of forced, compulsory or child labour, and elimination of discrimination in respect of employment. All suppliers must sign our Code of Conduct which addresses each of these standards. If these expectations are not met, we work with the supplier to improve in a short time frame; failing that, we will terminate the relationship. We visit our factories to check the workers are working in safe and healthy conditions, and that the supplier is complying with our Code of Conduct.
Year one
Progress & Challenges 2022
It's been a challenging year to start a business.
In 2022 we are proud of:
-Launching and our small but mighty team of three (66.6% female)
-Created 20,000 sustainability made pieces from our new Matlock HQ 
-100 stockists in 5 countries
- GOTS Certified Organic Cotton for all our cotton production
In 2023 we are working on:
-Full Supply Transparency and visit every stage of production
-Increased sizing offering up to size 22
-Getting F&L onto Rental sites
-Put GOTS and QR codes with full transparency into all our labeling 
-B-Corporation Certified
-1% For The Planet Certified 
-Publish our signed supply chain code of conduct 
-Publish our chemical policy 
- Measure lifetime assessments on all items in the range against water, carbon and other KPIs. 
sustainability recommendations
Learn More